English Programme of Study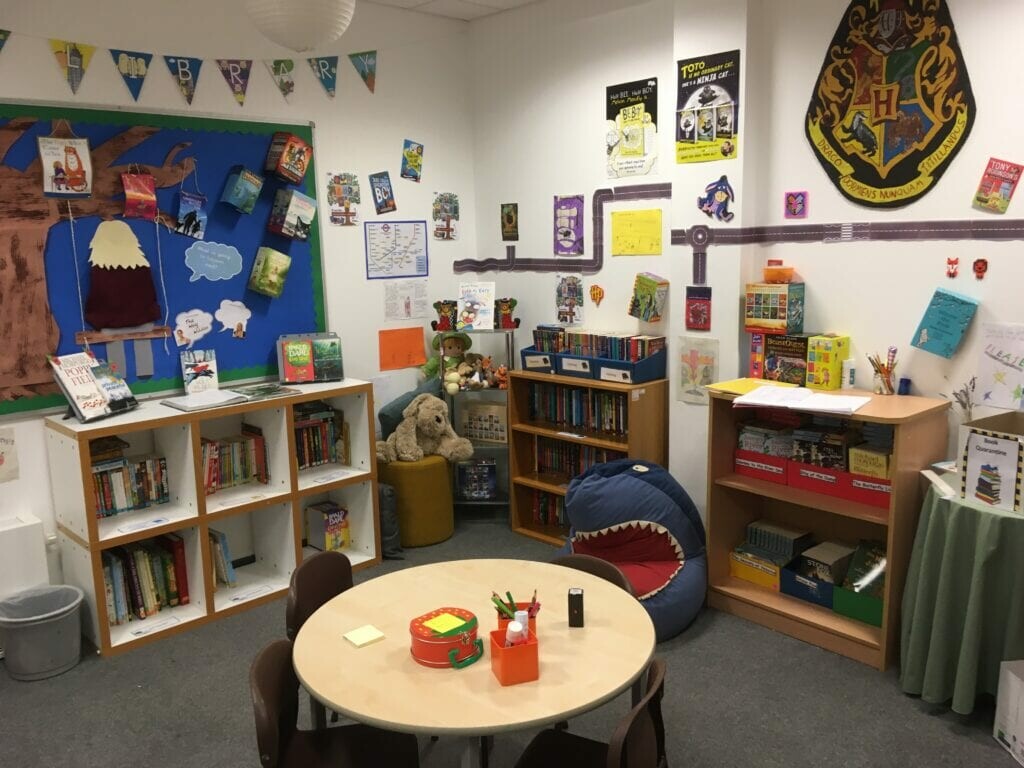 Primary Library


ENGLISH CURRICULUM INTENT  
At Gildredge House, we are committed to fostering a love for language, literature, and effective communication. Our intent is to provide a dynamic and enriching educational experience that empowers students to become critical thinkers, skilled writers, and avid readers. We aim to create a vibrant and inclusive learning environment where every student can flourish academically and personally.   
Our unwavering dedication to excellence in English education has a profound impact on our students, the school community, and society at large. To do this, we have designed and structured a language rich curriculum that is purposeful, creative, and challenging throughout their Gildredge House journey. Our English curriculum introduces students to a wide selection of extracts and texts to encourage our students to have a love of reading. Our aim is to promote creativity and critical thinking through the exploration of language and literature. Using a variety of texts, students not only develop their academic skillset but also the skills needed outside of the classroom including empathy and compassion.   
In addition to this, we believe that a secure basis of literacy skills is crucial to a high-quality education across the curriculum. We whole-heartedly "promote high standards of literacy by equipping pupils with a strong command of the spoken and written word, and to develop their love of literature through widespread reading for enjoyment." (National Curriculum, 2014)  
In summary, English at Gildredge House is dedicated to making a lasting impact on our students and society. We strive to instil a lifelong passion for the English language, literature, and effective communication while fostering an inclusive and nurturing environment where all students can flourish. Through our intent and actions, we work to prepare our pupils for success, both academically and in their personal development as thoughtful, articulate, and engaged individuals.  
Implementation of English at Gildredge House
At Gildredge House, we passionately believe that the strands of English – reading, writing and oracy – go hand-in-hand. We strive for excellence through the merging of these strands and ensure there is an equal balance in the delivery of each through quality first teaching.  
We intend for the teaching of English to be delivered with passion and infectious enthusiasm, immersing the pupils in vocabulary-rich learning environments.   
Our teachers know their pupils well and adapt learning accordingly to ensure an inclusive learning environment. 
At Gildredge House, we are passionate about developing a love of reading within all phases of the school, refer to our Literacy Strategy which outlines our plans for an embedded reading culture within the school.   
English lessons are exciting and through the exploration of authentic high-quality literature and carefully selected stimuli, we intend that all students are provided with many opportunities to develop and apply their reading, writing and oracy skills across all areas of the curriculum. 
Pupils are taught to read texts as a reader and as a writer, putting on their metaphorical and analytical hats when a rich text is exposed to them. 
At Gildredge House, in the Primary Phase, we use the Government approved Little Wandle Phonics Scheme for our teaching of early reading and spelling. We have a designated Early Reading Lead and an Early Reading Policy to support our implementation. 
Following on from our Phonics programme in Years 3-6, our focus is on teaching spelling which embraces the knowledge of spelling conventions, patterns and rules as well as exploring phonemes, morphology and emetology to support understanding and we use Spelling Shed to help us deliver these requirements.  For consistency, we use Letter Join as our progressive Handwriting Scheme, across the Primary phase.
In the Secondary Phase, we build on the prior knowledge covered in the Primary Phase to ensure all pupils have a strong foundation before moving on. 
Our Primary Phase and Key Stage 3 curriculum allows for all pupils to acquire the appropriate skills and knowledge to succeed with all Key Stage 4 content.
Through our pupils' learning journey, teachers will provide regular and meaningful feedback in a variety of ways such as verbal, written, retrieval tasks and show me boards to allow learning to progress.  
| | | |
| --- | --- | --- |
| | | |
| English inside the classroom | I looked up through the twisting branches and saw… | A mystery house! |
  For more information on implementation and impact, read our Programme of Study
English Programme of Study.pdf
Reflection